Skin Healthy Thanksgiving Recipes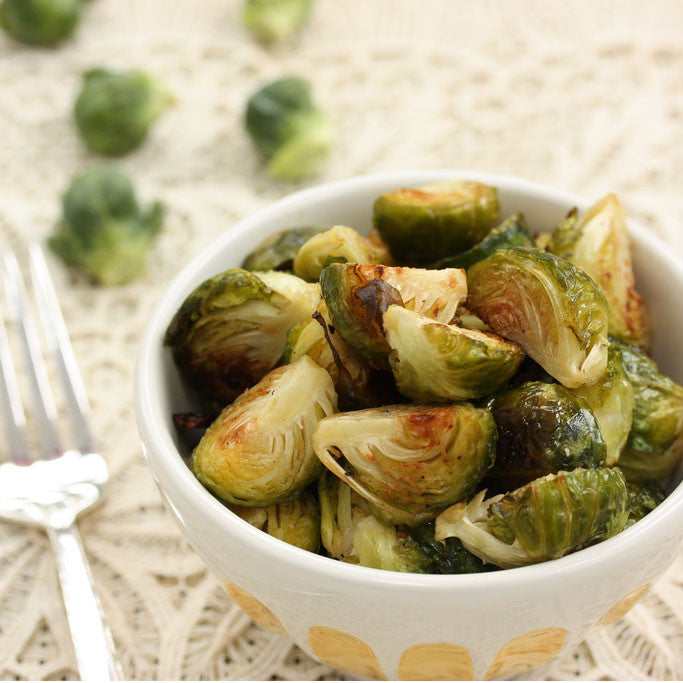 The holidays can bring about an immediate knowing of gluttony. Thoughts of eating too much pumpkin pie, chocolate thingies, or one too many glasses of egg nog. But the holidays don't have to be a time to abandon our skin health. There can absolutely be a happy balance between enjoying some of your favorites while keeping a focus on eating healthy foods.
Often I've been asked what I eat during Thanksgiving. My answer? THE SIDES! I load my plate up with brussel sprouts, green beans, mashed potatoes, and mushroom-based gravy. I'm a very happy girl and I have no breakouts the next day. Plus, I get to eat more than I normally would (veggies carry less calories  ) – win win win for me! Here are some of my favorite dishes to indulge in at Thanksgiving.
Roasted Brussel Sprouts with Pecans
1 lbs brussels sprouts, cut in half
3 tablespoons olive oil
salt + pepper
Dressing:
1 lemon, juiced
3-4 tablespoons olive oil
pinch of red pepper flakes
1 clove garlic, chopped
salt + pepper to taste
Preheat oven to 400° F. On a baking tray, place brussels evenly and cover with olive oil. Sprinkle with salt. Roast 30-35 minutes until golden and tender. In a separate bowl, mix together dressing. When brussels sprouts are cooked, toss them in a large serving bowl with the dressing. Serve immediately.  
Sweet + Root Mashed Potatoes 
1 lbs russet potatoes, peeled and cubed
1 lbs sweet potatoes, peeled and cubed
3 tablespoons vegan butter, goat butter, or sheep butter (no cow's milk)
salt + pepper
Bring a large pot of salted water to a boil. Add potatoes and cook until tender but still firm (about 15 minutes). Drain potatoes and place back into pot. Add non-cow butter and salt + pepper to taste. Mash to desired consistency. 
Apple + Acorn Squash Bisque
2T earth balance
1 yellow onion
1 carrot, chopped
1 celery stalk, chopped
1 tart green apple, chopped
1 acorn squash, skin removed, deseeded, chopped
3c vegetable stock
pinch nutmeg and cinnamon
In large pot, melt earth balance and add in chopped onions. Add carrot, celery, apple, and squash. Cook for five minutes. Add vegetable stock and spices. Boil, then simmer for 45 minutes. Once cooked through, place in blender and puree.
And for a killer, dairy-free pumpkin pie, check out this recipe at Oh She Glows!
Happy Thanksgiving!
Elise May, CN + LE, is the founder and practitioner behind Skin Nutritious. She has helped over 1,300 clients clear acne with detoxing treatments, clear skin coaching, and holistic skincare. 

Work with Elise. Book online here.
---