Comedogenic Ingredients • Official Skin Nutritious List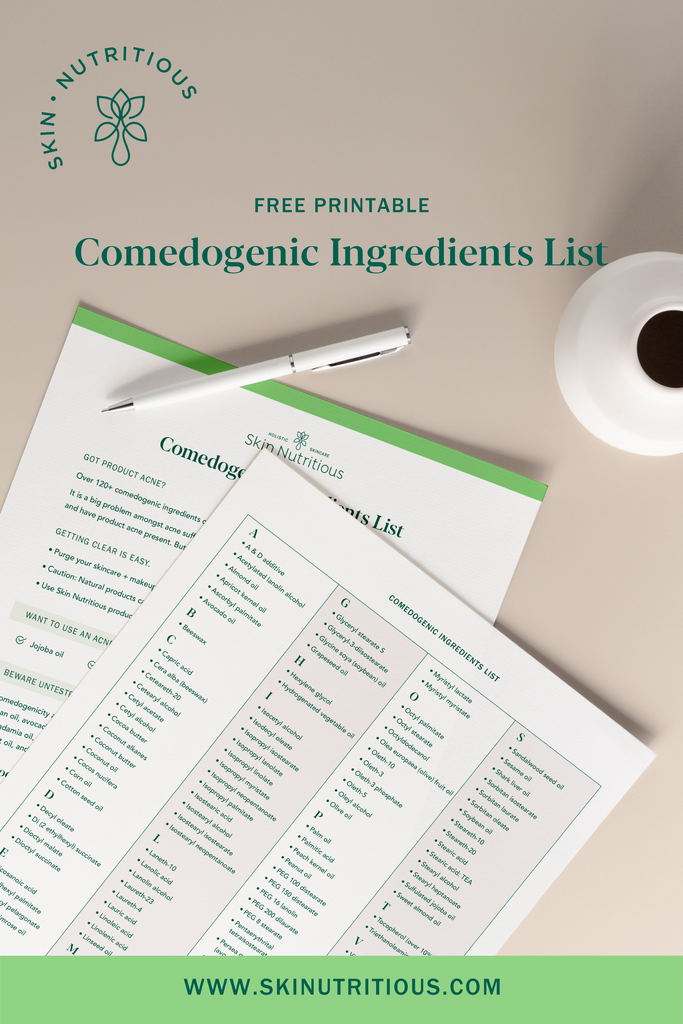 (Updated: July 25, 2023)
If you have acne, chances are you've heard the word "comedogenic" before. But few acne-prone people know what the word means, what the ingredients are, or how to check their own products for acne safety.
What is shocking to me as an acne practitioner is that a huge amount of skincare and makeup products I check for my clients trigger product acne. And that nearly none of my clients know about or how to check for themselves. I want this post to change that.

Comedogenic means "pore-clogging" ingredients. There are over 120+ of these comedogenic ingredients scientifically shown to trigger product acne (a.k.a. acne cosmetica). Though these cause massive problems for breakout-prone skin, the majority of people with acne are unknowningly using these pore-cloggers on a daily basis.   
Product acne is such a common problem in my clinic that nearly 100% of my new clients are using comedogenic products without knowing it. I cannot stress enough the importance to always check every product you use for comedogenic ingredients. Even a single comedogenic ingredient or one-time use cloggy product (i.e. a mask or a friend's sunscreen) can trigger these little breakouts if you're susceptible to them. Be vigilant about avoiding these to keep your skin clear!
Take a look here at the difference between product acne (from comedogenic ingredients) and hormonal acne:  
Comedogenic ingredients will only cause tiny little white bumps on the skin. They do not cause deeper, painful hormonal acne (i.e. red, cystic, inflamed). It's important to know which kind of acne you have so you know how to resolve it. If you have product acne, please read on!
COMEDOGENIC TIPS

• Check your products against the ingredients listed below. The ingredients listed here are from scientific research only. Mainly from Dr. Fulton's 1989 scientific study "Comedogenicity and irritancy of commonly used ingredients in skincare products" and input from Rebecca Gadburry, cosmetic chemistry teacher at UCLA. Dr. Fulton's groundbreaking study is the only comprehensive comedogenic ingredient study done to date. Thank you, late Dr. Fulton!
You may find other online sites with different comedogenic ingredients and ratings, but the sourcing of the information is important to check and often not supplied (if you find one with sources and footnotes on research, please send it to me to check out!). Here I have stuck with the science for this official list. And in my 10+ years of client work, this list is extremely reliable and trustworthy.
• Remember that natural skincare can (and often does) contain comedogenic ingredients. Most natural products contain comedogenic oils  such as coconut oil, almond oil, soybean oil, avocado oil, olive oil, and more. Check the list below to make sure your products are comedogenic-free. 
• Not everyone breaks out from comedogenic ingredients. People who are not acne-sensitive may not be affected by comedogenic ingredients at all. Sensitivity varies, which is why some people do not breakout from these ingredients and some do. Acne-prone skintypes are typically highly sensitive, which may be in part due to their naturally larger pore size.
• Beware of untested carrier oils. Most carrier oils used today were not tested in this 1989 study such as argan oil, borage oil, hemp oil, macadamia oil, pumpkin seed oil, rosehip oil, tamanu oil, walnut oil. These cannot be confirmed as acne-safe and most oils that were tested came up as comedogenic. I strongly recommend to avoid them. 
• Sunflower, safflower, jojoba, squalane, castor, and all essential oils are acne-safe. While most oils are comedogenic, these carrier oils and all essential oils were all found to be acne-safe. Feel free to use these ingredients without worry.
• Download a printable list of the Official Skin Nutritious Comedogenic Ingredients, so you can analyze your favorite products on the go. Click here to download for free!
• Shop Skin Nutritious for non-comedogenic, acne-safe skincare. I created my skincare line because I found it very difficult to find acne-fighting products that were also non-toxic. If you want clear skin results in the most natural way possible, these products were 100% made for you. And check out my Makeup for Acne List for pre-screened non-comedogenic cosmetic products too.
COMEDOGENIC INGREDIENTS
A & D additive
Acetylated lanolin alcohol
Almond oil
Apricot kernel oil
Ascorbyl palmitate
Avocado oil
Beeswax*
Capric acid
Cera alba (beeswax)*
Cetearyl alcohol + ceteareth 20
Ceteareth-20
Cetearyl alcohol
Cetyl acetate
Cetyl alcohol
Cocoa butter
Coconut alkanes (coconut oil)
Coconut butter
Coconut oil
Cocos nucifera (coconut oil)
Corn oil
Cotton seed oil
D&C red (most pigments)
Decyl oleate
Di (2 ethylhexyl) succinate
Dioctyl malate
Dioctyl succinate
Eicosanoic acid
Ethylhexyl palmitate
Ethylhexyl pelargonate
Evening primrose oil
Flaxseed oil
Glyceryl stearate SE
Glyceryl-3-diisostearate
Glycine soya oil (soybean)
Grapeseed oil
Hexylene glycol*
Hydrogenated vegetable oil
Isocetyl alcohol
Isodecyl oleate
Isopropyl isostearate
Isopropyl lanolate
Isopropyl linolate
Isopropyl myristate
Isopropyl neopentanoate
Isopropyl palmitate
Isostearic acid
Isostearyl alcohol
Isostearyl isostearate
Isostearyl neopentanoate
Laneth-10
Lanolic acid
Lanolin alcohol
Laureth-23
Laureth-4
Lauric acid
Linoleic acid
Linolenic acid
Linseed oil
Mineral oil*
Mink oil
Mink oil, refined
Myreth-3 myristate
Myristic acid
Myristyl alcohol
Myristyl lactate
Myristyl myristate
Octyl palmitate
Octyl stearate
Octyldodecanol
Olea europaea fruit oil
Oleic acid (in natural oils)
Oleth-10
Oleth-3
Oleth-3 phosphate
Oleth-5
Oleyl alcohol
Olive oil
Palm oil
Palmitic acid
Peach kernel oil
Peanut oil
PEG 100 distearate
PEG 150 distearate
PEG 16 lanolin
PEG 200 dilaurate
PEG 8 stearate
PG caprylate/caprate
Pentaerythrital tetraisostearate
PG dipelargonate
PG monostearate
Phytantriol
Polyglyceryl-3-diisostearate
PEG 16 lanolin
PPG 10 cetyl ether
PPG 12 PEG 65 lanolin oil
PPG 2 myristyl propionate
PPG 5 Ceteth 10 phosphate
Prunus amygdalus dulcis oil
Prunus dulcis oil (almond)
Sandalwood seed oil
Sesame oil
Shark liver oil
Sorbitan isostearate
Sorbitan laurate
Sorbitan oleate
Soy oil
Soybean oil
Steareth-10
Steareth-20
Stearic acid
Stearic acid: TEA
Stearyl alcohol
Stearyl heptanoate
Sulfulated jojoba oil
Sweet almond oil
Tocopherol (under 2% may be ok)*
Triethanoleamine
Vitamin A palmitate
Vitamin E oil (under 2% may be ok)*
Vitis vinifera (grapeseed) oil
Water-soluble sulfur
Wheat germ glyceride
Wheat germ oil
Xylene
UNTESTED OILS (comedogenicity unknown, best to avoid) :
Argan oil
Avocado butter
Borage oil
Hemp oil
Kukui nut Oil
Macadamia oil
Maracuja oil
Marula oil
Pumpkin seed oil
Rosehip oil
Tamanu oil
Walnut oil
...and all other carrier oils and butters not listed here.
 .
In love, health, and community,
Elise May, CN + LE, is a holistic esthetician, acne nutritionist, and founder of Skin Nutritious. Since 2011, she has helped over 1,600 clients overcome acne with a unique blend of coaching, treatments, and holistic skincare. 

Work with Elise at her San Francisco acne clinic or virtually worldwide! View services + book online here.
.
*Denotes 0-2 comedogenicity depending on source of raw material. 
References:
Fulton, James E., Comedogenicity and irritancy of commonly used ingredients in skincare products. Society of Cosmetic Chemists, 1989.
"Introduction to Skin and Biochemistry for Cosmetic Science." UCLA, April 2015. Gadberry, Rebecca James.
 .
. 
The entire contents of this website are intended as a sharing of knowledge and information from the research and experience of Elise May, Skin Nutritious, and her community. Skin Nutritious encourages you to make your own health care decisions based upon your research and in partnership with a qualified health care professional. The information on this website is not intended to replace a one-on-one relationship with a qualified health care professional and is not intended as medical advice. These statements have not been evaluated by the Food and Drug Administration. This product is not intended to diagnose, treat, cure, or prevent any disease.
---