Is Natural Skincare Causing Your Acne?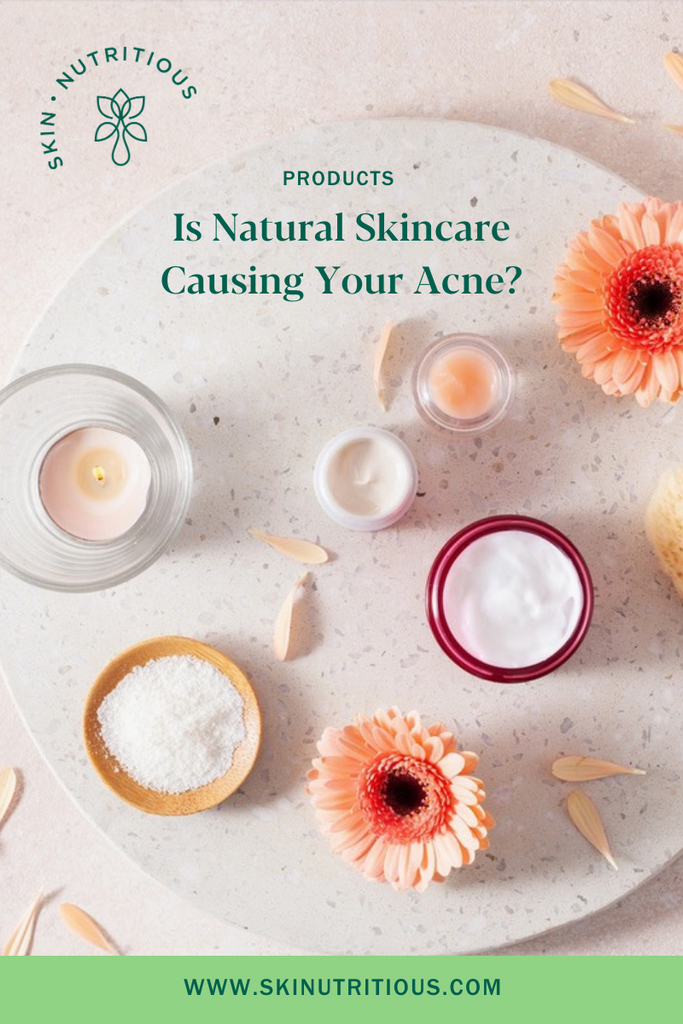 (UPDATED: March 1, 2020)
Natural skincare is wildly popular right now - and for great reason! More and more consumers want products that do not harm their skin. The public has been leaning towards a more "natural only" approach with readable ingredients to move away from large companies who are selling toxic synthetics to a non-informed public market. GREAT!
Plot Twist: as popular as natural products are, those of us acne-prone need to heed caution. The majority of products on the market are made for the general public (not for acne-prone skin) and contain some of the 120+ scientifically-identified comedogenic (pore-clogging) ingredients, many of which are in fact natural.
Comedogenic ingredients are responsible for triggering product acne (a.k.a. acne cosmetica). Breakouts from products will not cause deep cysts, but rather surface-level, non-inflamed white acne bumps. They often form in a cluster of several small, white bumps with little or no redness. See picture below for an example:
In 1989, a study of comedogenic (pore-clogging) ingredients was conducted. The study found various synthetic and natural ingredients that triggered pimples. If you are breakout-prone or have noticed more clogged pores recently, these are the ingredients you must start avoiding in your skincare. Good news though is you can still eat these, just don't put them on your skin! 
NATURAL INGREDIENTS THAT CAN TRIGGER ACNE:
Watch out, these pore-cloggers can trigger product breakouts.
Almond oil 
Apricot kernel oil
Avocado oil 
Beeswax (a.k.a. cera alba wax)
Cetearyl alcohol
Cetyl alcohol 
Cocoa butter
Coconut oil (a.ka. coconut alkanes or cocos nucifera) • Coconut oil is great for many people suffering with ezcema, rosacea, and dry skin, but if you have acne you will want to stay away from this product 100%. It is a very thick oil that causes massive amounts of little bumps all over the skin. This will by far make your acne worse.
Corn oil 
Cotton seed oil 
Evening primrose oil (oenothera biennis oil/extract) 
Flaxseed oil 
Grapeseed oil (vinis vinifera extract) 
Hydrogenated vegetable oil 
Olive oil (a.k.a. olea europaea fruit oil/extract) • Heavily used in natural skincare and very cloggy for the #acnecommunity. Make sure this isn't in the products you are prone to breakouts.
Peach kernel oil
Peanut oil 
Sesame oil 
Soybean oil (glycine soja oil) • Another oil that is widely used to make products more smooth and hydrating, but even a little bit causes clogs on the skin. I have tested several products with small amounts of this ingredient and still small clogs - especially in the chin. Watch out for this one.
Stearyl alcohol 
Sweet almond oil 
NATURAL INGREDIENTS THAT DON'T TRIGGER ACNE:
All essential oils

Allantoin

Aloe Vera

Bergamot essential oil

Cellulose

Clove essential oil

Ginseng extract

Green tea extract

Honey

Jojoba essential oil

Lavender essential oil

Mandarin essential oil
Oatstraw extract
Pink grapefruit essential oil

Rosemary essential oil

Safflower oil

Sunflower oil

Sweet orange essential oil

Tea tree essential oil

Titanium dioxide

Zinc oxide

Witch hazel
What to do?

1. Most natural makeup and sunscreens contain comedogenic oils. The large majority of natural makeups and SPFs are non-toxic (yay!) but can contain comedogenic ingredients in their formulations such as coconut oil, olive oil, avocado oil, soybean oil, and more (no! 😭). If you're seeking acne-safe makeup that is also natural, loose powders are the best option (lists with *asterisk below). 
2. Beware of untested carrier oils. Most carrier oils used today were not available or tested in the 1989 comedogenic study such as argan oil, borage oil, hemp oil, kukui nut oil, macadamia oil, meadowfoam seed oil, pumpkin seed oil, rosehip oil, tamanu oil, walnut oil. These cannot be confirmed as acne-safe and I strongly recommend to avoid them. 
3. Sunflower, safflower, jojoba, and all essential oils are acne-safe. While most oils are comedogenic, jojoba, safflower, sunflower, and all essential oils were all found to be acne-safe. Feel free to use these ingredients without worry.
4. Download the comedogenic list. If you have acne, your skin requires special care. Checking every product you use on your face for comedogenic ingredients is a must to stay safe. Even a one-time use mask can leave bumps for months. 
5. Shop Skin Nutritious for acne-safe, non-comedogenic skincare. My whole skincare line is designed specifically for acne-prone skin types to be 100% non-comedogenic and as non-toxic as possible. Created by me, an 12-year acne survivor who has worked with over 1,300 clients to clear their skin! I also have a growing list of pre-screened cosmetics here: Makeup for Acne.
If you are not sure if your breakouts are from products or something else, I can identify that for you. Check out my services below for 1-on-1 support.
In love, health, and community,
Elise May, CN + LE, is a holistic esthetician, acne nutritionist, and founder of Skin Nutritious. Since 2009, she has helped over 1,300 clients overcome acne with a unique blend of coaching, treatments, and holistic skincare. 

Work with Elise. 
• In San Francisco or worldwide- book online here.
• Shop her Holistic Acne Skincare line here.
.
.
The entire contents of this website are intended as a sharing of knowledge and information from the research and experience of Elise May, Skin Nutritious, and her community. Skin Nutritious encourages you to make your own health care decisions based upon your research and in partnership with a qualified health care professional. The information on this website is not intended to replace a one-on-one relationship with a qualified health care professional and is not intended as medical advice. These statements have not been evaluated by the Food and Drug Administration. This product is not intended to diagnose, treat, cure, or prevent any disease.
---