How Diet Changes Cleared Diana's Cystic Acne in 12 Weeks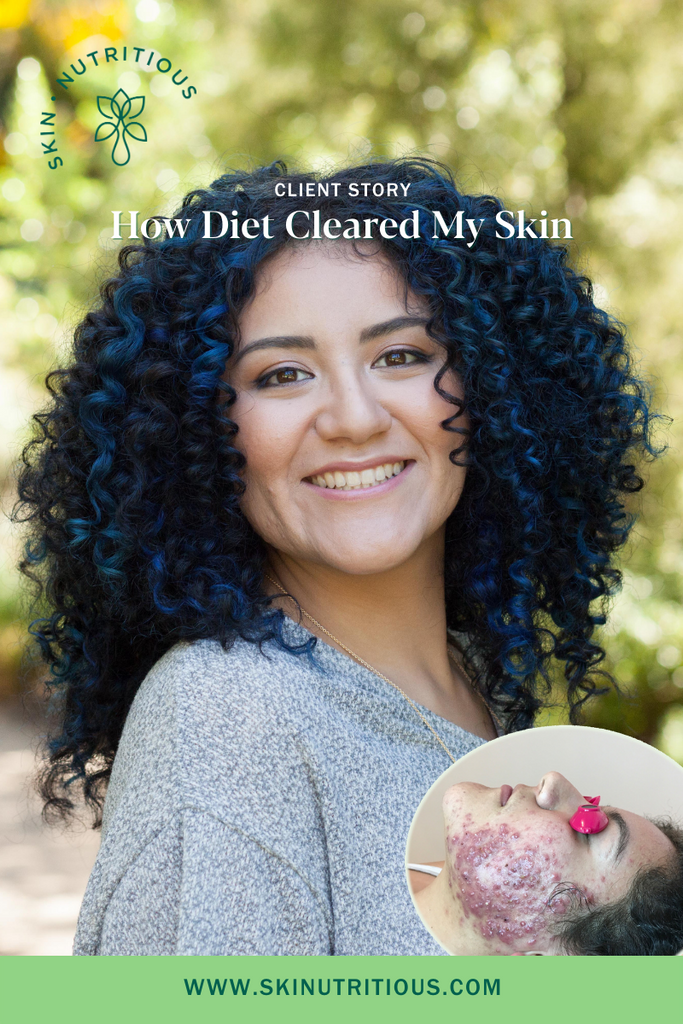 In my years as a skin healer, there are times when someone walks through my door and I sense a miracle is about to take place. This was the case with Diana.
When Diana reached out to me, she was frustrated, at her wit's end, and desperate for help. She was 19 years old and had dealt with acne since middle school, but her breakouts had taken a turn for the worse. She went vegan in October 2017, which improved her skin some. But she was still struggling with ongoing breakouts.
A year later, she decided to enlist the help of her doctor, who recommended birth control to clear her continuing acne. She writes:
"I began taking birth control pills in mid April 2018 to get rid of the acne I was still getting. In 2 weeks I broke out horribly along my cheeks and jaw. I knew it was bad because it really hurt to even sleep on my face; I've never had my acne be this sensitive. This was by far the most horrible acne I have ever dealt with.
I immediately stopped taking the pills. I thought I could handle these breakouts but I just made them 100% worse. I tried African Black Soap bar, natural aloe vera gel, charcoal cleansers, acne cleansers, and even just washing my face with water. Everything is just irritating my skin.
What especially hurts though, is that I look back at my pictures before the BC pills and my skin was not perfect but it was a whole lot better than what it is now. I also  just lost 30 pounds and I was doing great in school; I was super confident in myself. Now I have no energy to do anything productive. I'd rather just hide in a hole and eat." 
Diana's acne was the most intense I had ever worked with, but I wanted to help her and I knew I could! At our first session, even light extractions were painful, so we focused on diet and skincare changes to let her skin begin to heal itself. As we met every two weeks, her skin became less red, less swollen, and her acne started to recede.
Here is the specific holistic skincare plan I mapped out for Diana: 
Going dairy-free. Though Diana identified as vegan, she let dairy slip into her diet here and there when out or with family. Going 100% dairy-free took out the last bit of hormonal animal milk affecting her hormonal acne. To learn more about how dairy affects acne, read my blog here.
Minimizing added sugar. Diana had a major sweet tooth. Cutting out cow's milk took a lot of desserts off the table for her, but she's a great baker and make gluten-free, vegan versions of all her favorite sweets! By providing her a daily added sugar budget, we reduced her body's inflammation and excessive free testosterone from high blood sugar spikes.
Using the Clear Skin Kit daily. Diana was using certain natural and non-natural skincare products that contained comedogenic ingredients and were causing little clogs all over her skin. By removing these and replacing them with the holistic skincare in the Clear Skin Kit, we worked on deep cleaning in the pores with Power Duo Pure Mandelic Exfoliant + 

Acne Clearing Treatment

without re-clogging her pores in the process.
Diana kept a skin diary every day throughout the 4 months we worked together, which logged her meals, sleeping, stress, and new breakouts. 
Diana is truly a shining example of the holistic healing that is possible with each of us. She did this 100% accutane-free, antibiotic-free, and medication-free. All she did was change a few key aspects of her diet and use the Clear Skin Kit morning and night to support her. Diana's progress is proof that holistic, natural healing is possible and shows the impact that diet changes can have on our skin. If Diana can do it, so can you!! 
Here is her review after our work together:
"Elise is genuinely excited to help people obtain clear skin. She was ecstatic about every small bit of progress in my acne journey. In the first 2 weeks of seeing Elise, following the diet restrictions and skin regimen, my family and I immediately saw progress in my skin. It felt SO relieving that I finally had a guaranteed solution to my acne. I no longer was gambling on over-the-counter products; I could finally see the light at the end of the tunnel.

Now, my skin is acne-free! I can't even remember the feeling of the horrible acne I had months ago. All that is left is temporary pigmentation and scars. Elise and I have been working on this pigmentation since August and it has gotten significantly better!

I feel more confident than ever! I feel even more motivated to completely follow my vegan diet because I've learned how dairy physically affects my skin (I was a vegan before seeing Elise but I would sometimes cheat on dairy). I also believe Elise has helped me improve the unhealthy relationship I had with food, especially sweets. I easily binged on snacks and sweets without realizing the consequences. Having to place a limit on my sugar intake for 4 months has accustomed me to only having 1 dessert every day. Some days I skip the dessert altogether and just snack on some tasty fruits! Elise's Clear Skin Rules are tough to follow through at first but it will become routine for you...eventually.

My family and I are forever grateful to Elise and the lifetime knowledge she's given me about acne and my daily diet choices! Thank you so much Elise!!!"
In love, health, and community,
Elise May, CN + LE, is a holistic esthetician, acne nutritionist, and founder of Skin Nutritious. Since 2009, she has helped over 1,300 clients overcome acne with a unique blend of coaching, treatments, and holistic skincare. 

Work with Elise. 
• In San Francisco - book online here.
• Worldwide Clear Skin eConsults book here.
.
.
The entire contents of this website are intended as a sharing of knowledge and information from the research and experience of Elise May, Skin Nutritious, and her community. Skin Nutritious encourages you to make your own health care decisions based upon your research and in partnership with a qualified health care professional. The information on this website is not intended to replace a one-on-one relationship with a qualified health care professional and is not intended as medical advice. These statements have not been evaluated by the Food and Drug Administration. This product is not intended to diagnose, treat, cure, or prevent any disease.
---