Dairy-Free Alternatives for Clear Skin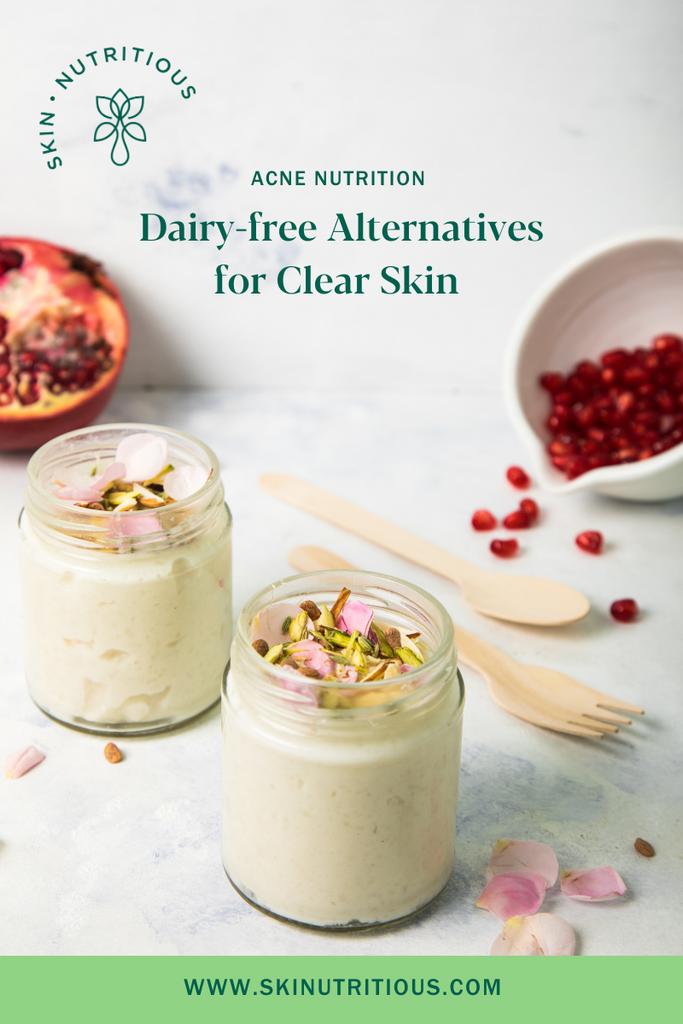 Hello Clear Skin Tribe! Let's be real, it can be hard to face the fact that dairy is a huge contributor to breakouts. Worse off, even just one meal with some dairy can can cause pimples that last for days. Ugh. 
But eternal happiness can be found in a plethora of other dairy-free alternatives that taste delicious and help clear your skin. These are foods I eat on a regular basis that help reduce inflammation, breakouts, and redness in the skin. Reducing dairy doesn't just benefit acne sufferers, it also improves symptoms in rosacea, eczema, psoriasis, dermatitis, and hives too.
As a former dairy/cheese addict, it's been a long road to finding my sweet spot with dairy replacements. Here are some of the foods I recommend in place of dairy:
BUTTER: Miyoko's Cultured Vegan Butter. WOAH. This stuff is seriously impressive. Spread it on toast, cook with it, drop it in your bulletproof coffee! Based in coconut oil, this is a great, dairy-free substitute that spreads and melts just like "real" cow butter. And best of all... no breakouts!
ICE CREAM: So Delicious Coconut or Cashew Milk Ice Cream. This is definitely something I consider a huge treat. Ice cream is no health food, but if you're going to eat it why not get a healthier version? Skipping the dairy means you just cut down major on a huge acne trigger. While added sugar is no health food, this substitute is a better option than regular ol' Haagen Daas. Keep it to a small helping of 1/2 or 1 cup and you'll be able to have dessert without breakouts.
GELATO: Humphrey Slocombe's POG Sorbet. Holy heck - passion fruit, orange, and guava all wrapped up in dairy-free goodness!! While regular ice cream, gelatos, and sherbets often contain cow's milk, sorbet is a dairy-free. It can still have a lot of sugar, so best to keep to 1/2 or 1 cup (though I know we can just eat this stuff until our stomach is sick!).
CREAM CHEESE: Miyoko Classic Double Cream Chive or Kite Hill Cream Cheese Chive (from almonds). I LOVE treating myself in the morning to a piece of Ezekiel toast slathered in these cheese alternatives. Rich and creamy, you get all the fatty goodness of cheese without the hormones. I'm all about it!!
SHREDDED CHEESE: Daiya Cheese. Ok, finding an alternative to cheese is pretty tough. But Daiya is a dairy-free, casein-free alternative that melts like a charm! No need to give up this favorite food, you can have your… er… grilled cheese and eat it too! And guess what, no pimples or redness afterwards. Hallelujah! 
HALF + HALF:  So Delicious Coconut Milk Creamer (1 pint). That little bit of half and half is causing just a little bit of acne each and every day. Cow's milk contains over 60+ different hormones, (yes - even organic milk!). Ditch the creamer and switch it out for this rich coconut milk that seriously does the trick. 
YOGURT: Forager's Cashew Milk Yogurt. I know there is a huge marketing campaign designed to make you think yogurt is healthy. Sure the probiotics are great, but they come wrapped up in a bunch of cow hormones that make your skin go crazy! Switch to Forager's for a rich cashew based yogurt that won't make you miss the dairy.

I hope this helps inspire you to eat cleaner and get clear. Remember to work on what works for you, and not compare yourself to what others are doing. Let's heal together, you can do this! 
In love, health, and community,
Elise May, CN + LE, is a holistic esthetician, acne nutritionist, and founder of Skin Nutritious. Since 2009, she has helped over 1,300 clients overcome acne with a unique blend of coaching, treatments, and holistic skincare. 

Work with Elise. 
• In San Francisco or worldwide- book online here.
• Shop her Holistic Acne Skincare line here.
.
.
The entire contents of this website are intended as a sharing of knowledge and information from the research and experience of Elise May, Skin Nutritious, and her community. Skin Nutritious encourages you to make your own health care decisions based upon your research and in partnership with a qualified health care professional. The information on this website is not intended to replace a one-on-one relationship with a qualified health care professional and is not intended as medical advice. These statements have not been evaluated by the Food and Drug Administration. This product is not intended to diagnose, treat, cure, or prevent any disease.
---